Halls and Events

-

something for everyone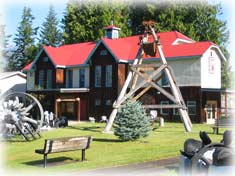 Slocan Lake Arts Council
:
Located next to the Village Office in our Municipal Block, the building was originally built as a Schoolhouse in the early 1900s. It now houses an art gallery; performance room with theatre lights & sound system; workshops; dressing rooms; and a kitchen. The facility operates year-round, thanks to a host of volunteers and a small paid staff during the summer months.

For more information please check out their website!
www.slocanlakeartscouncil.ca/
H
istorical Interpretive Centre, Fingland Cabin and Outdoor Mining Museum
:
Silverton is proud of its history and heritage. It has an active Historical Society which runs these three facilities. The Interpretive Centre is housed in the Silverton Gallery building; the Outdoor Mining Museum is located in front of the Gallery; and Fingland Cabin is across the street.
Memorial Hall: Our grand dame community hall was built in 1919 through a combination of public subscription, donations and volunteer labour. Memorial Hall, recently underwent major renovations and now features a new fully equipped kitchen, lighting system, full sound system, LCD projector, 200 " screen, satellite TV and full Internet connectivity. It is one of the finest acoustic halls of its size in Canada, and is ideal for concerts, meetings, receptions, dances, weddings, etc.
Fire Hall Meeting Room: Can accommodate groups up to 24 people, with a small kitchen and board tables. Conveniently located in the Municipal Block, it is available for rental through bookings@silverton.ca
Arena - Curling Rink
Valhalla Summer School of Music: Each year runs a summer program of classical music instruction for children and families, featuring world class instructors. Makes use of all the Village's fine meeting rooms and halls, plus private homes and businesses to host the classes, practice sessions and concerts. Check out their website at: www.valhallafinearts.org

July 1st Celebration: Each year, Silverton marks Canada Day with a family-oriented community celebration including Pancake Breakfast in Memorial Hall, Bocce Tournament, Bavarian Garden, Children's Parade, Birthday Cake, Youth Awards, Fireworks & more. Put together by citizens, Village staff, Historical Society, and Gallery Society, this event brings together young & old, residents & visitors alike. Takes place all over town. Don't miss it! July 1st celebrations are a Silverton Community Club Event. Check out their website at: www.silvertoncommunityclub.ca
Silverton is a wonderful place to get away from it all, or to host a seminar, business retreat or workshop. Please contact the Village Office for more information or for assistance.
The Village of Silverton
Box 14 - 421 Lake Avenue,
Silverton, BC V0G 2B0
Phone 250-358-2472
Fax 250-358-2321
Email:
info@silverton.ca